DEAR GUESTS, PLEASE INQUIRE WITH US BEFORE BOOKING AS WE DON'T HAVE LIVE AVAILABILITY. PLEASE DON'T PAY BEFORE WRITING WITH US. INQUIRE THROUGH 'CONTACT HOST'. Over the course of the next 5 days, you will experience the highlights of the Eastern Cape - Addo National Park and the picturesque surfing town of St Francis. We start our adventure with a glamping experience in the park and end it with some beach and water-based fun in St Francis, where you will call an exclusive seaside villa your home.
所有體驗達人都必須遵守我們與世界動物保護協會共同制定的規範。

向生物學家、生態保育學家、農民,以及更多良師益友學習。

從羊駝到斑馬,帶您認識超過300種動物。
Hi, my name is Jessika and I am the founder of Safarisource. We connect local guides across Africa with travelers. Our guides offer unique tours for any traveler at affordable rates. Our safaris support conservation efforts and at the same time are culturally immersive and empower local communities, allowing for eye-level interaction between traveler and host. Guides working with Safarisource are community leaders. Felsch is the local host for this safari. He is from the Tsonga culture, indigenous to the region around the Kruger but he has been living in St Francis Bay in the Eastern Cape for many years. Felsch is a newly wedded father of three, a quick thinker and problem-solver with a talent for African and international languages - he is fluent in 5: Portuguese, English, Tsonga, Xhosa and Zulu.

在露營帳篷住2晚, 在別墅住2晚

4 早餐, 3 晚餐, 1 午餐

4趟小車遊
Airport Arrivals or your desired location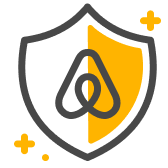 參加者安全
每項探險體驗都遵守行業守則。 我們與深耕探險旅行的業界領導組織「探險旅遊同業協會」(Adventure Travel Trade Association;ATTA) 合作,為Airbnb探險制定最佳作法與安全標準。
最多4人參加,不限年齡。 這項探險體驗屬於低強度活動。 Please inquire before booking as there is no live availability. We can accommodate private groups nearly every day of the year. Please inquire with us for whichever dates you like. Price per person for private groups: 1…
5日探險
Bush to Beach Eastern Cape Edition